PSEM-SS-ABT Conventional Cationic Emulsifiers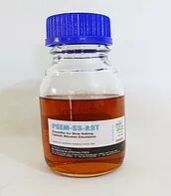 | | |
| --- | --- |
| Business Type | Manufacturer, Exporter |
Preferred Buyer From
| | |
| --- | --- |
| Location | Anywhere in India |
Description :
"PSEM-SS-ABT" is amphoteric type emulsifier for production of Slow Setting Cationic Bitumen Emulsions. This product is liquid even at low temperatures so is convenient to use in both batch type and continuous type bitumen emulsion production plants. Emulsions made using recommended dose of this product give storage stable and fine performance products.

Physical Properties :
"PSEM-SS-ABT" is brownish yellow clear liquid at room temperature with characteristic pungent-acrid odor. This product is soluble in cold and hot water and miscible with polar solvents. Its water solution give neutral to slightly acidic pH. In recommended doses, it provides cationic bitumen emulsion passing cement mixing test for effective priming and premixing properties. Addition of a compatible peptizer greatly improve emulsion properties and cohesion buildup in slurry applications.

This emulsifier provides a vide choice for production of different grades of slow setting bitumen emulsions including prime coat emulsion, slurry surfacing, fog seal, soil stabilization, cold in place recycling and microsurfacing etc. For activation of this emulsifier concentrated hydrochloric acid is recommended as economical and better choice. The final pH of water solution before making emulsion must be checked and adjusted between 2 to 3.  At this pH, "PSEM-SS-ABT" has highest micellization in soap solution favoring better stable emulsion. Any suitable peptizer can be optionally mixed with bitumen before making emulsion for easy milling and lower particle size distribution favoring better storage stability.   

Chemical Properties :
Specific Gravity :  0.86 - 0.95
Amine Value:N.M.
Active Nitrogen :  N.M.
pH Water (1:100) : 6 - 7
Active content :60%
Shelf Life : 2 Years from the date of production.
Colour : Brownish clear liquid.
Compatibility :  Bitumen VG-10 & VG-30.
Read More...
Specifications
Ingredients
Cationic Bitumen Emulsion Grade:
Rapid Setting-1
Rapid Setting-2
Medium Setting
Bitumen VG-10 (80/100)
60 - 62%
60 - 62%
62 - 65%
Solvent (Optional)
0 - 3%
--
--
Amine Peptizer (Optional)
0 - 0.2%
0 - 0.2%
0 - 0.2%
Emulsifier PSEM-SS-ABT
0.6 - 2.0%
1.2 - 2.5%
1.2 - 2.5%
Hydrochloric Acid (concentrated)
to pH 2 - 3
to pH 2 - 3
to pH 2 - 3
Calcium Chloride Powder
--
--
--
Water (Potable)
to make 100%
to make 100%
to make 100%
Looking for "
PSEM-SS-ABT Conventional Cationic Emulsifiers

" ?