BeGel Solid Powder Thickener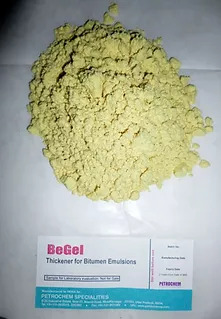 | | |
| --- | --- |
| Business Type | Manufacturer, Exporter |
| Available Packings | BeGel Solid Powder Thickener in 25 Kgs. LDPE Lined HDPE Bags. |
Preferred Buyer From
| | |
| --- | --- |
| Location | Anywhere in India |
Bitumen Emulsions have a lot of variation in their viscosities depending on the type of bitumen used, type of emulsifier, dose of acid, particle size distribution etc. Most of the time an external viscosity improving agent is required to meet specifications and coating properties.

Solid thickeners are the powders obtained from complex natural products modified by chemical cleavage and re-formation to provide stability in low pH medium. "BeGel" is a modified polygalactomanan type low dose product which is compatible with most grades of Bitumen Emulsion and emulsifiers. This product is added into hot water before formation of Bitumen Emulsion to obtain high viscosity.

Physical Properties :
Fine Power in light yellow colour with chararcteristic Odour, substantially non-hazardous but irritant on prolong contact. Dispersible in water, giving thick colloidal dispersion. Shows mild alkaline pH in water.

Chemical Properties :
Chemical Name   : Modified Galactomannan
Water Content : Max. 15%
Flash Point   : Not Flammable.
Viscosity   : ~ 3000 cps (0.5% aqueous solution)
pH : 8 - 9 (0.5% aqueous solution)
Shelf Life   : 1 Year from the date of production in sealed bags.
Colour   : Yellow Fine Powder.
Odor : Characteristic.
Compatibility: Most grades of Cationic Bitumen Emulsions.

Typical Dose & Method of Addition :
BeGel should be used between 0.1% to 0.5% w/w of Water. BeGel should be added to hot water (Temperature between 50 and 80 Degree centigrade) in smaller quantities using a dispersing device like sieving through 0.6 mm sieve with constant stirring to avoid lumping. Stirring should be continued for 15 minutes and then the liquid can be used normally in place of water. If lumping occurs, the liquid can be filtered through 0.6 mm sieve to avoid agglomeration.
Looking for "
BeGel Solid Powder Thickener

" ?